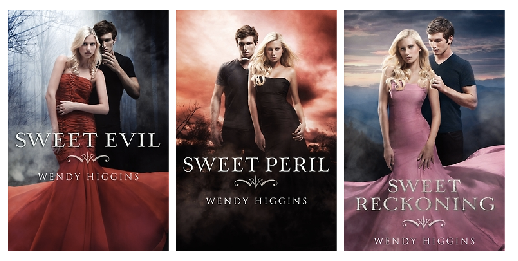 Sweet Evil has become one of my

favourite

series. It is a story full of sacrifice, destiny and redemption. One of the many things I like about this trilogy was the story itself. I liked the idea of the 12 dukes and that each and every one of them had a special sin; the story of how hell came to be and how Lucifer recruited a whole army to take down god was clearly explained and developed.
I also loved the characters; every character was different, special, unique and simply never-to-be-forgotten. My favourite characters was Kaiden Rowe, It was this hot, masculine, and dangerous bad boy which works for his father, the duke of lust. He seems that way at first sight but as you continue reading you come to know him as a sentimental and protective boy. Anna is the main character; she is very graceful and strong. Anna narrates the story from her perspective and as you keep reading you can observe the change and growth Anna makes from being a shy, innocent girl to a confident leader. The twin sisters were also crucial, they were identical in physical but had a totally different personality, even though Ginger was not so kind I still liked her and of course Marna was sweetness, she was always so joyful and kind till the very end of her life. Blake was I think my second favourite character. He was charming, funny and a total prankster. He was the kind of guy who just joked around, whenever and wherever. Blake was that character that made the whole story a little bit funnier and comical, he make me laugh thought the whole series. Having at least one characters which makes you laugh is really important for me because it makes the story fun to read too. Blake had many qualities, he was loyal and did everything in his hands for his friends to be happy. I really, really enjoyed knowing him. There were many other characters which made a great impact and without any of them it just wouldn't have been the same, each and every one was important.
I also liked the love and passion Anna and Kaiden had; the author did a great job on showing their strong affection for each other. She was extremely descriptive on their emotions and their physical attraction. For me what made this trilogy my favorite one was the way the author managed to create a real story based in a magical, science fiction world, she was extremely descriptive through the whole story and she added so many small details that made the trilogy remarkable and vivid. Wendy Higgins transmitted all types of emotions and I got so caught up in the book that I felt like a character living their adventure, being part in their story every step of the way.
The ending of the series was very touching and original, I completely loved it. I wish their story kept going!
There are so few things I did not like about this series, however, one of them was the cover page, I think the authors need to avoid cover pages which show the faces of character because I enjoy having the opportunity to imagine the characters in my head but that's my own liking. I would also have liked to get to know the secondary characters even more. Still this triology was extraordinary and it's a MUST read!
Yup, thats about it,
Paulina the book lover blogger